Parents and Guardians: Please see the attached memo regarding the upcoming changes and implementation of the Car Rider Pro system. 

Parents & Guardians: please take a moment to view our September 2023 newsletter!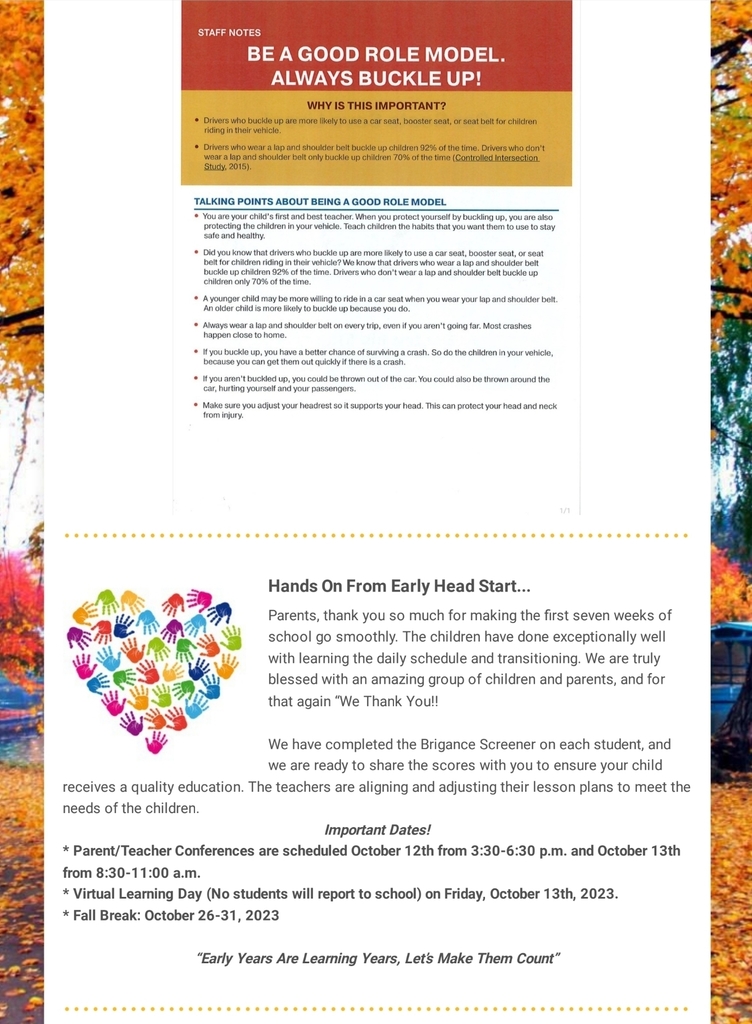 We are Bulldog Proud to announce an updated list of our students who have attained Perfect Attendance for the month of August 2023! Please congratulate them and encourage all of our students to keep up the good work academically and by coming to school each day! It plays such a vital role in the overall educational experience! Excellence Will Always Be Our Standard!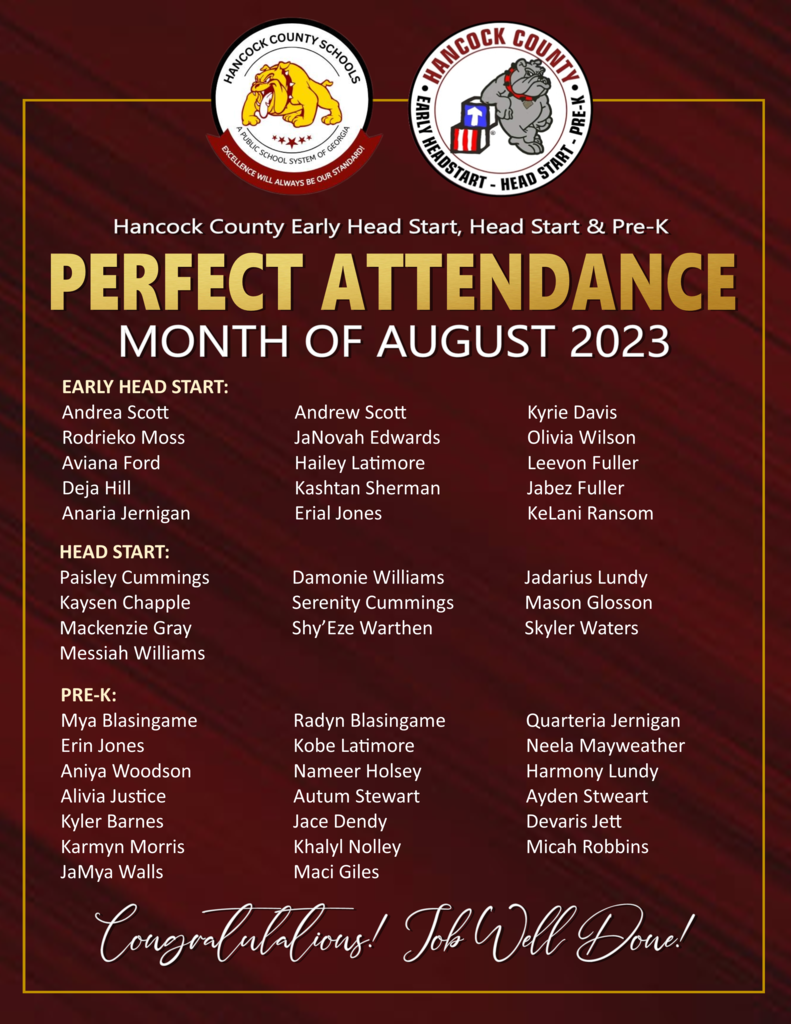 Parents & Guardians: join us on Wednesday, September 27th at 5 PM for our September 2023 Parent Meeting! Our Education Department (Education Managers) will be hosting this meeting with special guests: Dream Shakers. The meeting starts promptly at 5 PM. Come out and receive some great information and watch our Perfect Attendance Parade!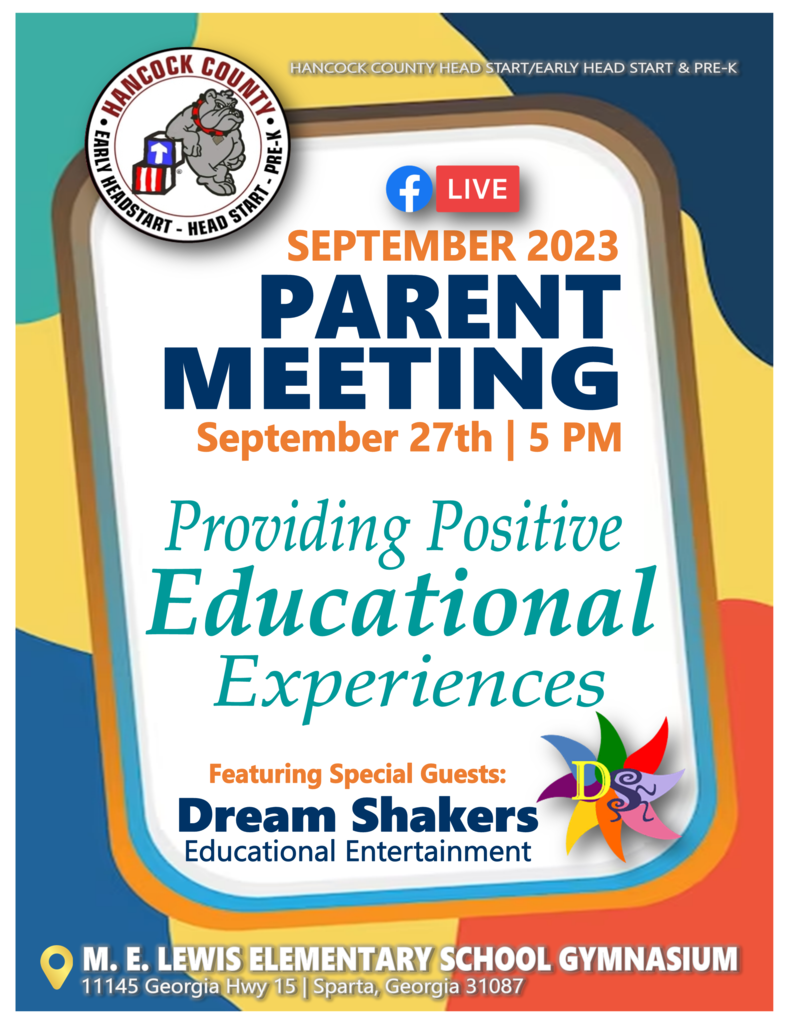 Parents & Guardians: Join us for our September 2023 Parent Cafe where we will discuss Life Insurance! Please see the flyer for details. We will be meeting at the EHS Cafeteria at 10 AM. You don't want to miss this session. Our facilitator, Mr. Joseph Foreman, Jr., will discuss how to secure life insurance to meet your needs! This event is open to anyone who may need information on life insurance!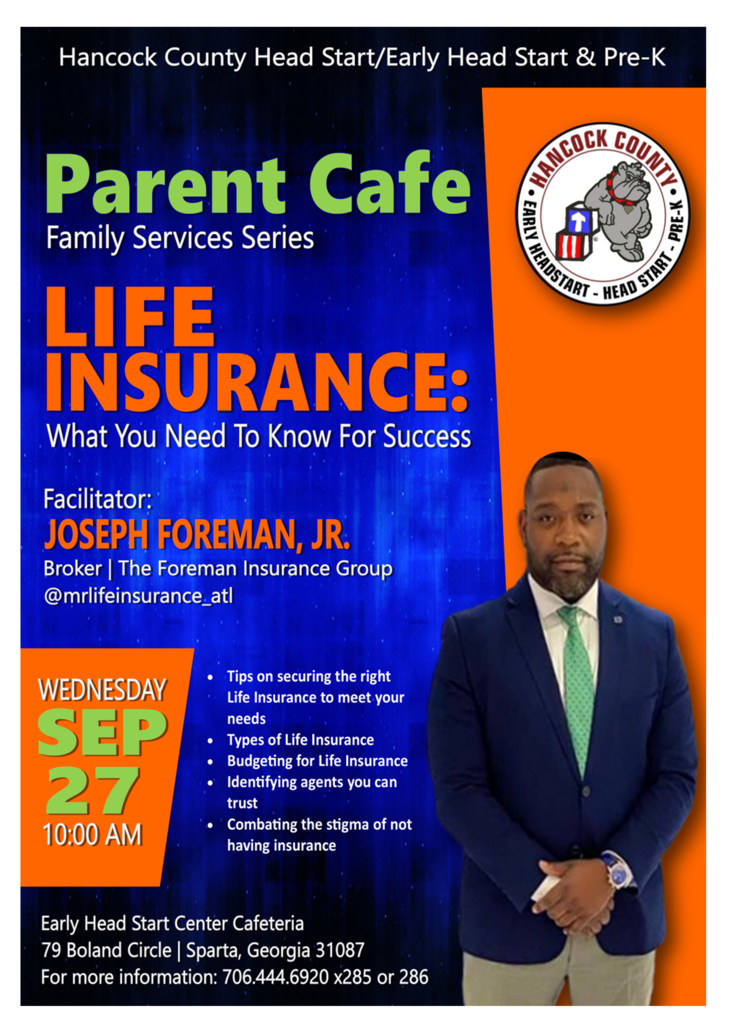 Parents & Guardians: Hancock County Early Head Start is experiencing telephone service difficulties at this time. We realize that this is very inconvenient and ATT is working to resolve this matter. Until then, please contact us by calling 706-444-5775, utilizing the following prompt: (1) for Hancock County Schools, prompt (3) for Early Head Start, and then the extension 239. As always, thank you for being understanding of this situation as we await favorable resolution.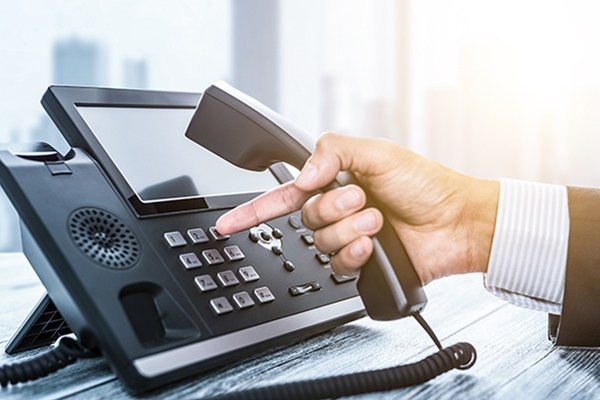 We're getting in gear to celebrate our awesome grandparents who fill in and stand in the gap when our parents can't be in place! Join us on Wednesday, September 13th at 9: AM at the Early Head Start Campus Cafeteria! We're going to have a good time and we hope your grandparents can join us! RSVP to 706.444.6920 x285 or x286 so that we may adequately prepare for you!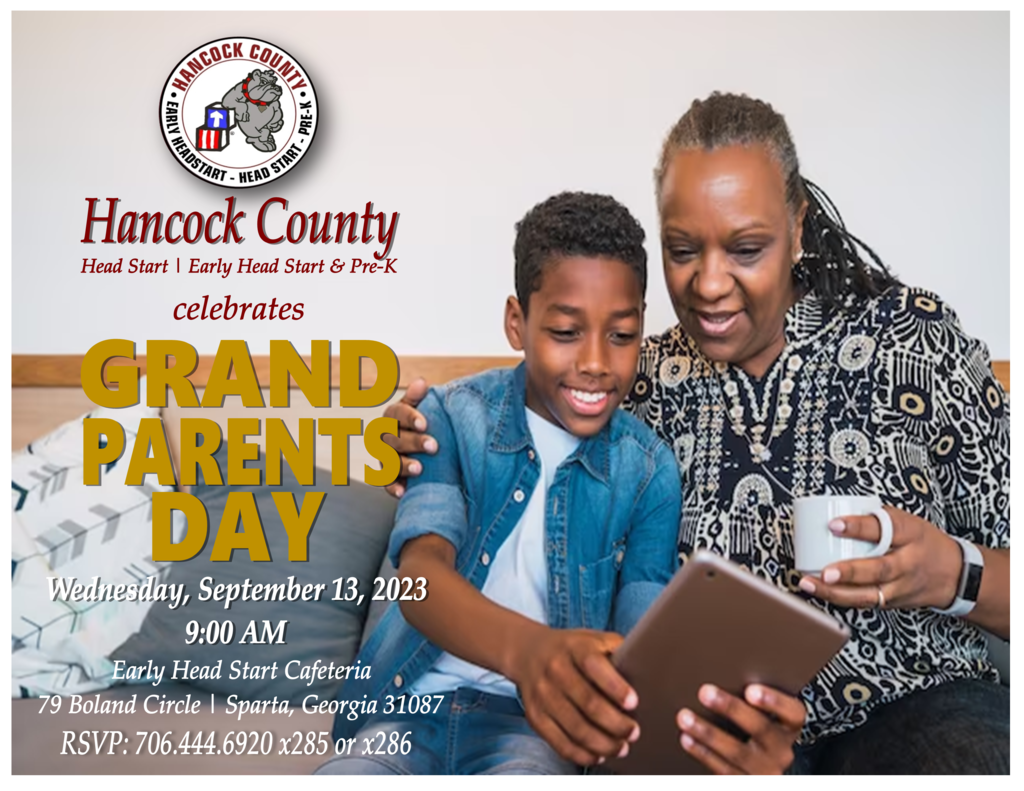 Join us for our Breast Feeding Awareness Month Event on Tuesday, August 29th! There will be lots of information for parents interested in breast feeding with prizes and giveaways! You don't want to miss this awesome event! For more information, please contact Family Service Advocate Toccara McClain (Pregnant Moms Coordinator) at 706.444.6920, ext. 285!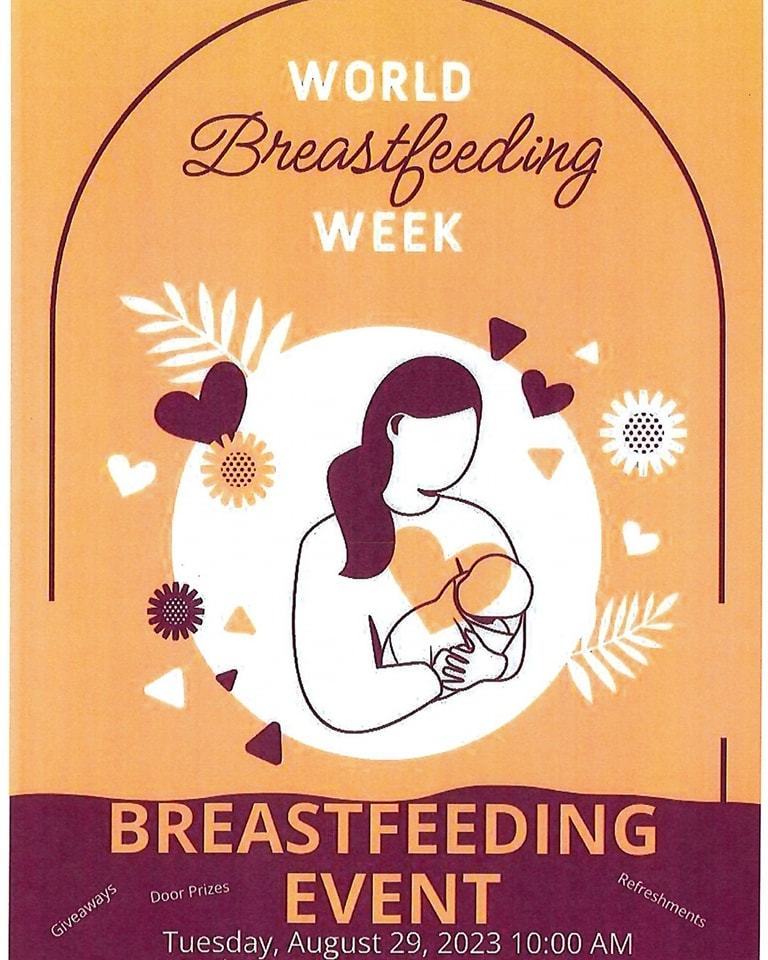 Parents & Guardians: Please make plans to attend our first Parent Cafe of the school year! Please see the flyer below for details and come out and receive valuable information! We look forward to seeing you on August 30th!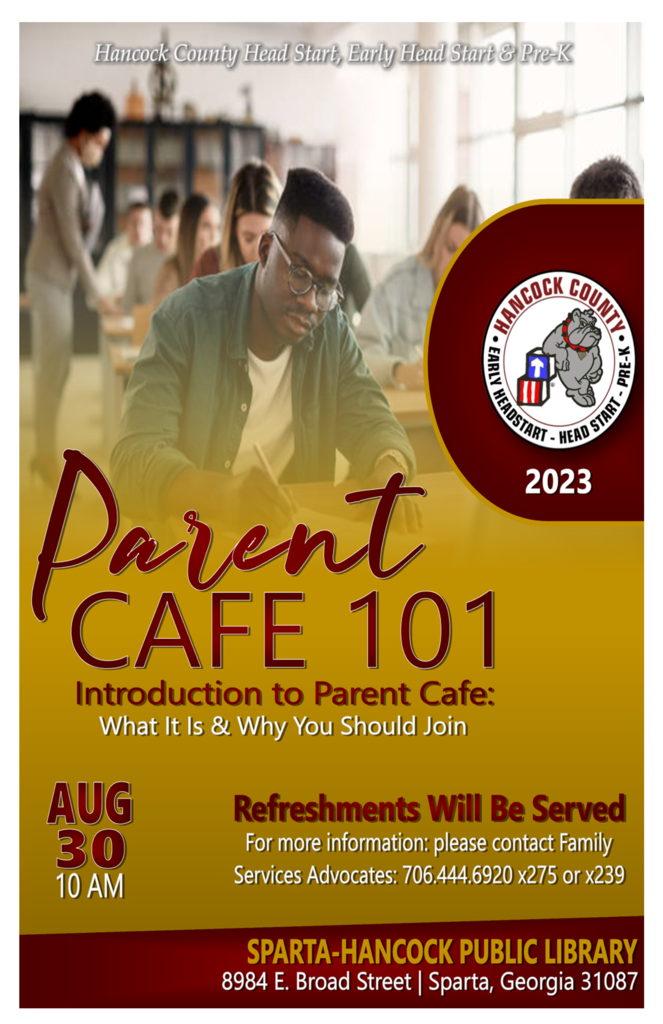 At Hancock County Early Head Start, Head Start & Pre-K, we are always recruiting! If you know of any children ages birth to 5 years and pregnant moms, please have them stop by our Early Head Start Campus or our Head Start/ Pre-K campus at M. E. Lewis Elementary School to pick up an enrollment application! Special Thanks to Ms. Denson and Ms. Simmons for braving the heat to partner with possible constituents at Webster's Drug Store today! "Excellence Will Always Be Our Standard"!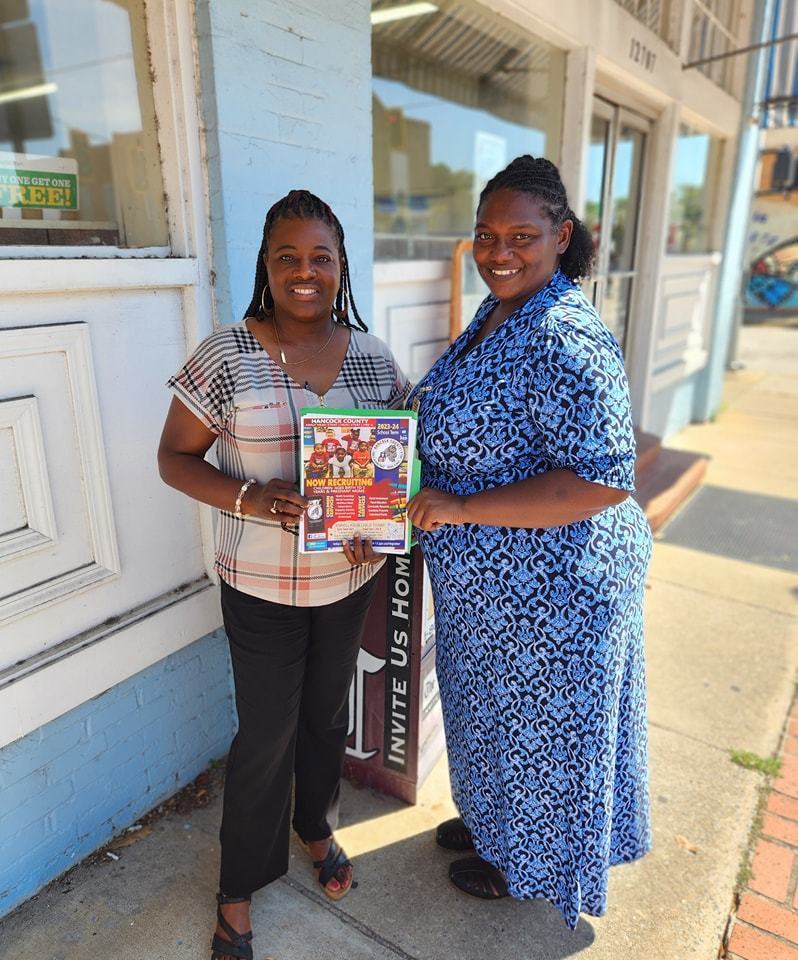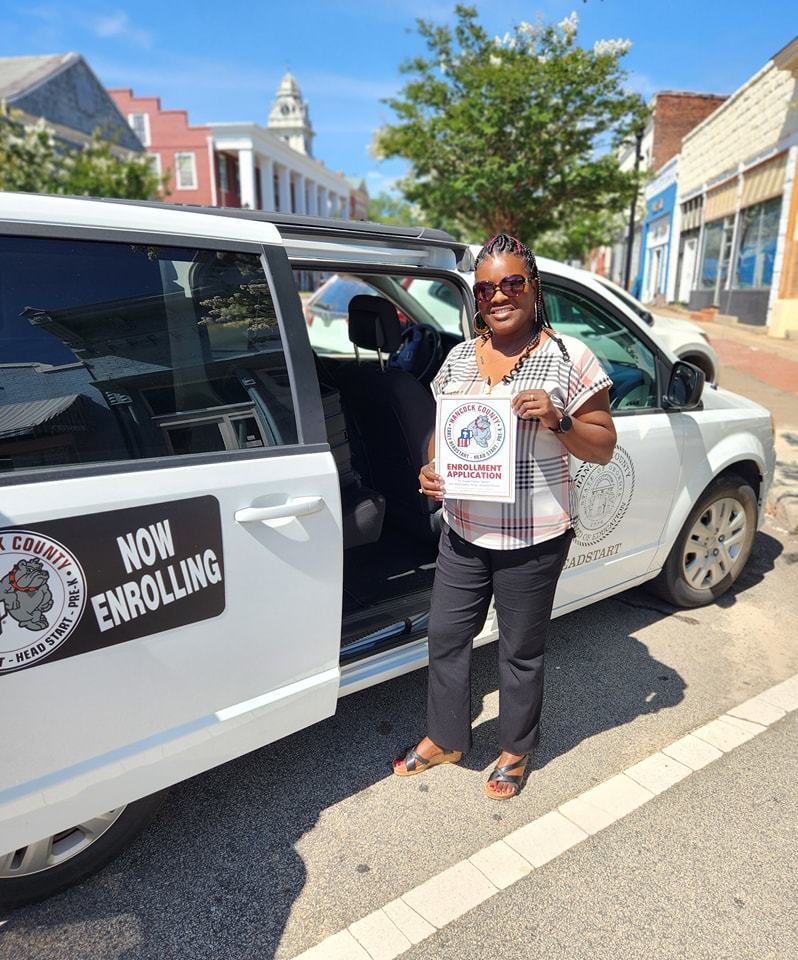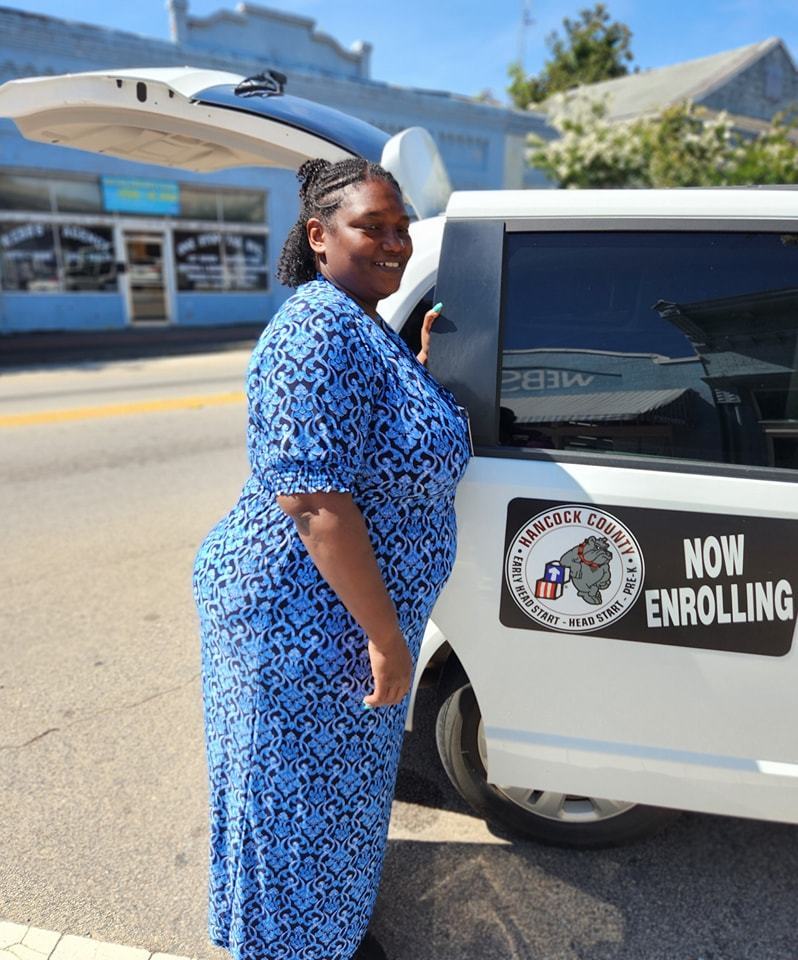 Join us for the first Parent Meeting of the 2023-24 school term! This month's theme is, "It Takes A Village". Come out to see exactly what your child will experience in the Head Start program. Departments and Community Partners will be on hand and everyone is welcome to join us on Thursday, August 24th at 5 PM in the M.E. Lewis Elementary School Gymnasium!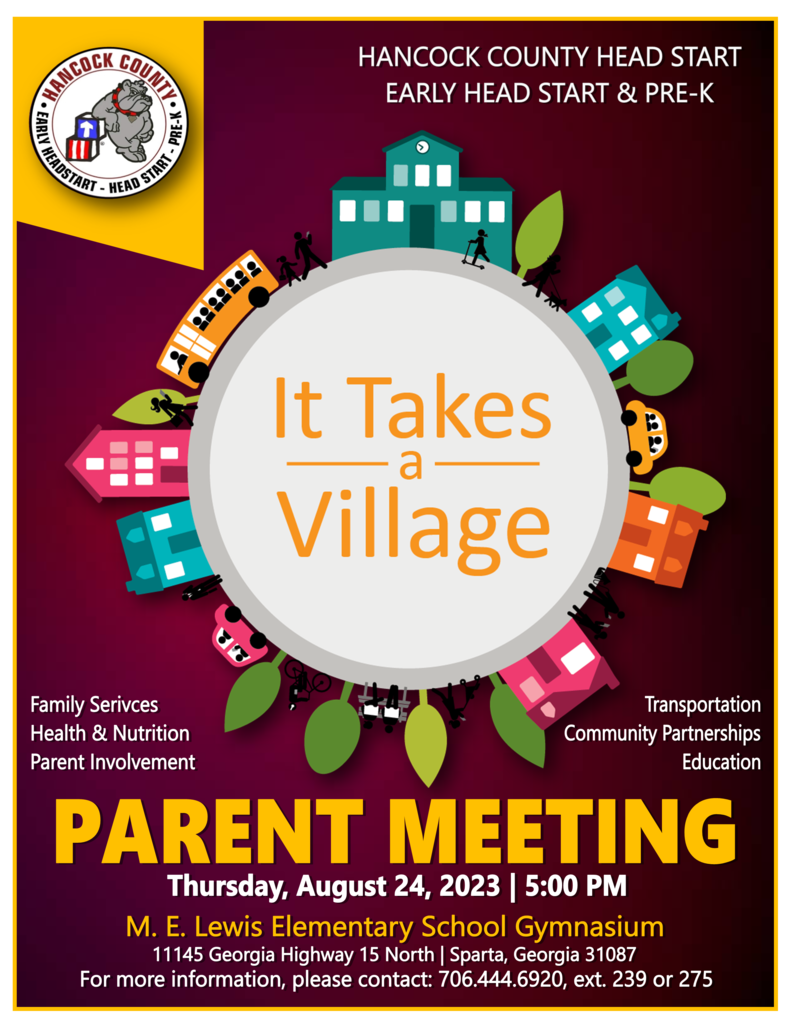 Parents & Guardians: Please join us for Open House on Friday, July 28, 2023 from 1-4 PM at the Hancock Central High School Gymnasium. Take this opportunity to meet your child's teachers and other staff, update your contact information, Learn about our NEW Transportation App, Receive pertinent school information, Pick up school supplies and view resources and area vendors. For more information, contact Head Start at 706.444.6920, ext. 275 or 239.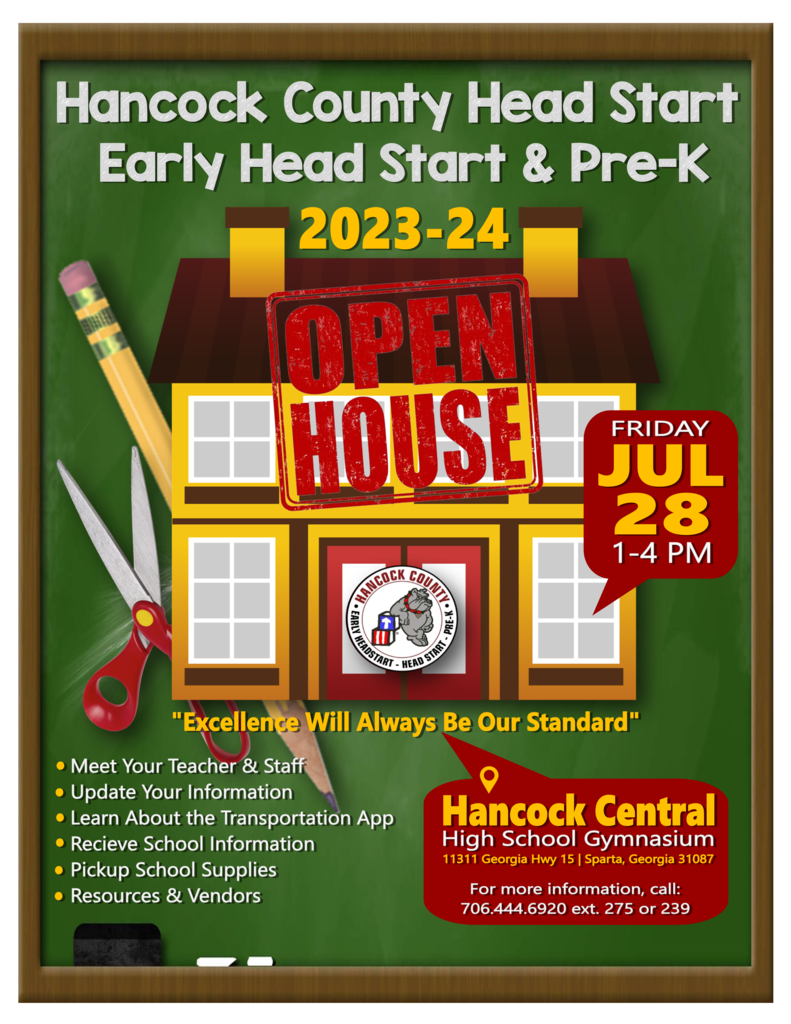 Hancock County Schools will observe the Juneteenth Holiday on Monday, June 19, 2023. The Central Office and all schools will be closed. Staff and Students will return to school on Tuesday, June 20, 2023.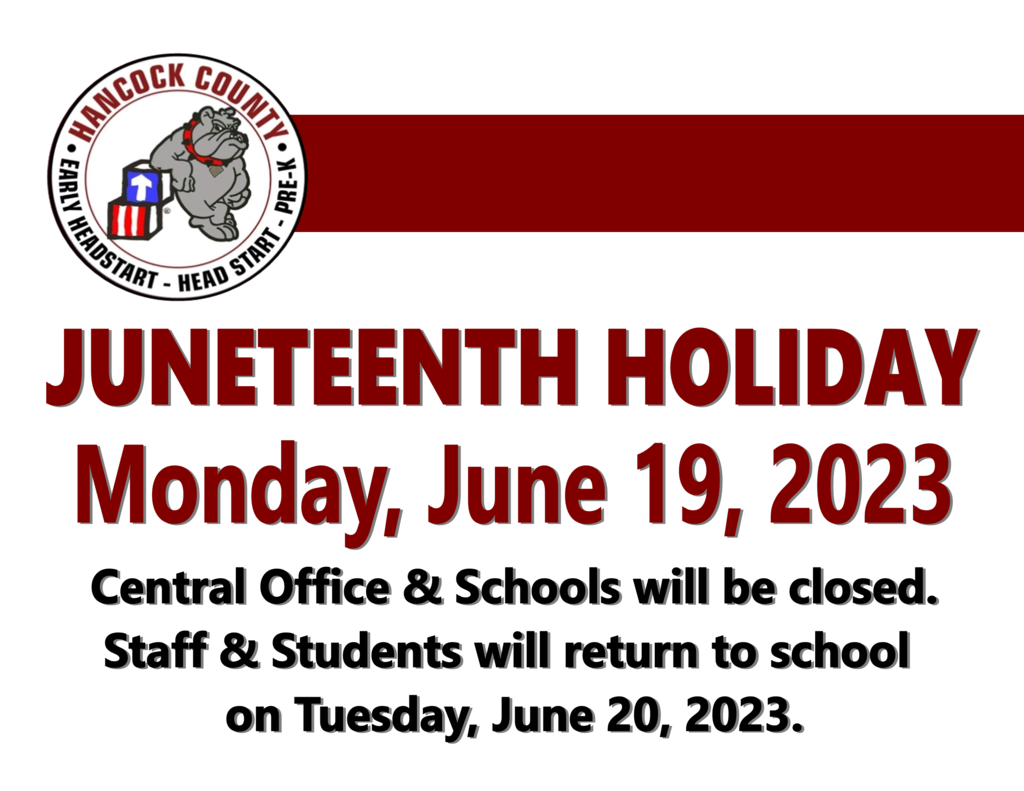 Early RELEASE WEDNESDAY 3/23/2022 This memo is to inform you that Early Head Start, and Pre-K students will be released at 12:00 P. M. on Wednesday 3/23/22. Please make arrangements to pick your child up.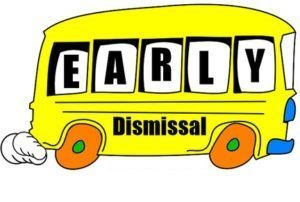 We will be in observance of Spring Break: April 4-8, 2022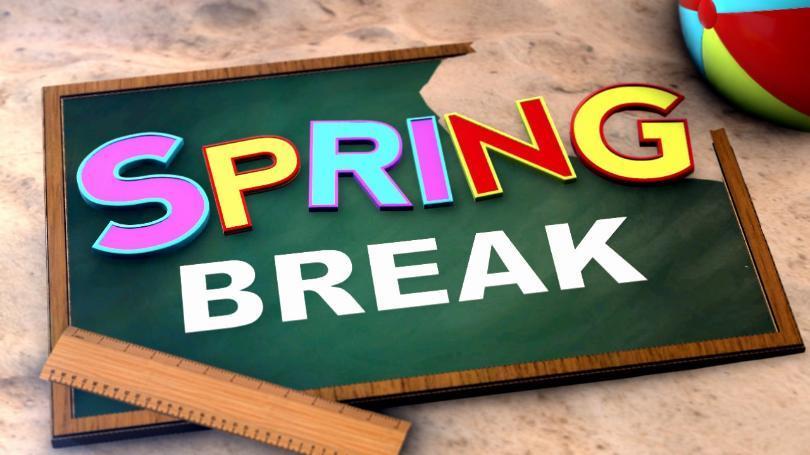 Week of The Young Child March 28- April 1, 2022


​Read Across America/ Dr. Seuss Week February 28- March 4, 2022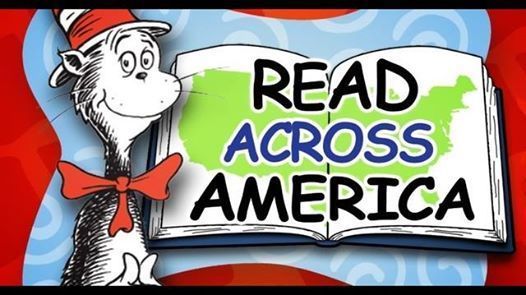 Student Holiday/ Winter Break Hello all, Student holiday will be observed on February 17, 2022, followed by Winter Break: February 18, 2022- February 21, 2022 all staff and students will return on February 22, 2022.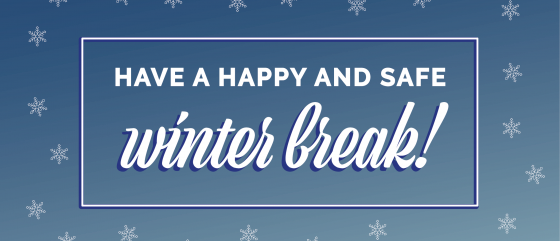 Parent- Teacher Conferences Parent-Teacher Conference Dates are: February 16, 2022 4:00 p.m.- 7:00 p.m. February 17,2022 8:30 a.m.-11:30 a.m.

November 19,2021 We will observe this day in remembrance of John McCown